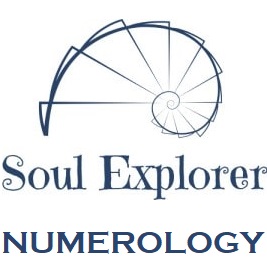 Soul Explorer uses Numerology to build your personal chart, helping you decode your contract and fulfil your soul's path!
Number vibration is everything, all is energy, frequency and vibration. We are all energy beings that reincarnate to learn lessons via experience.
Before we reincarnate, we speak to our spirit guide about what we need to learn in this incarnation. You chose your birthday and full name vibration in order to learn those specific lessons with all the tools you need to do so. We forget the contract we made with our spirit guide when we incarnate, so that we can fully immerse into our life on earth.
Your Life Path number is the most important number, but that's only part of the story. You are helped by your expression number, your birthday number, your soul urge number, your personal years and your essence for each year.
SOUL EXPLORER Numerology VIDEOS
Videos are posted regularly to the Soul Explorer Video Channel with playlists covering many aspects of Numerology.
Numerology - What does 2022 have in store for us?
Soul Urge 8 - Are you motivated to achieve your Life Path?
How Soul Urge Number 5 Supports Life Path 7
How Soul Urge Number 5 Supports Life Path 1
If you like the videos and want to see more then click on the link below to visit or subscribe to my channel!
SOUL EXPLORER Numerology PODCASTS
If you are a beginner, then this is the podcast for you. I'll tell you of the history, purpose and profound significance that knowing Numerology can have on your life.
Essential Podcasts – These Podcasts explain the basics and will teach you how to  to calculate your numbers!
Latest Podcasts – The most recent podcasts posted
The 4 types of Life Path 3
The 1 Type of Life Path 2
Do you have a rare Life Path
For more Podcasts click on the link below to visit my page on Spotify.
Numerology Chart Explained
This page gives an explaination of the Numerology Chart and the different numbers that it consits of. If you are new to Numerology this can help you to gain a better understanding.
Numerology Chart Explained
Numerology Readings
A numerology reading can decode your numbers and reveal your soul's path. I offer in depth 1-1 sessions, written reports and personal coaching. As a fully trained Life Coach I can also help you to walk your path.
See my Numerology Reading page for more information.
Numerology Reading & Coaching info
Numerology Courses
I am obsessed with Numerology and want to share with others what I have learnt. My courses can teach you Numerology from beginner through to advanced level and even teach you to read for others.
See my Numerology Course page for more information.
Numerology Course Info
Contact Soul Explorer
Please contact me if you have  any questions or wish to arrange a booking.
My email address is katie@soulexplorer.net. Further information is on the Contact Details page.